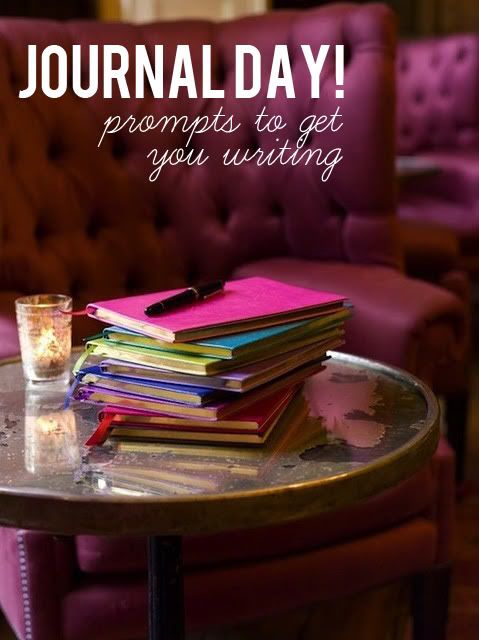 Yesterday, one of my favorite bloggers, Dani of Sometimes Sweet, started a new feature titled JOURNAL DAY! She posts a creative writing prompt, writes an entry herself, & then asks for us to participate. I've decided to take part in it since journal days were my favorite days in school. Dani is a former highschool English teacher & found herself missing out on those days when she would leave a journal prompt for her students to do in the morning. So, she's bringing it to her blog for us to participate in!
I absolutely love this idea & am looking forward to reading others' entries.
Describe a "first" (first date, first lie, the first time you experienced something, first time in a particular setting, etc). Include as many details as possible to paint a picture.
The "first" I'll be talking about is my first concert. I went to my first concert when I was in 5th grade. Just 10 years old. The concert was SPICE GIRLS at the Starwood Amphitheater in Nashville. Which is sadly no longer there. It was an outdoor amphitheater that hosted alot of the big acts every summer. I was extremely excited & remember having to keep it a secret from my little cousin, Erin, who was also going. She was only 5 or 6 at the time & just learning how to read. I remember sitting on my aunt's back porch with my aunt & Erin. My aunt KK decided that she wanted to tell Erin that we were going to the concert that weekend. She showed her the tickets & Erin had to sound all the words out until she figured it out. She was STOKED. We would always stay up really late, jumping on the bed, pretending it was our stage, & jam out to the Spice Girls until KK would force us to go to bed.
We decided to dress according to our favorite Spice Girls. I dressed as Posh and Erin went as Baby. I had a little bob hairstyle at the time so it was perfect. I wore a little black dress & chunky platforms (at only 10!!). Erin wore a light pink dress with white platforms. I can't believe how young we were tramping around in those platform shoes. They probably weren't even that high but at that age the platforms made me feel like a real grown up. The concert was amazing. Complete with crazy outfits, fireworks, & lots of screaming along on our part. My mom & aunt also came with us. I remember when the girls performed the song, "Naked". They sat backwards on chairs with sheets draped across them. Erin & I contemplated for hours after the show whether they were actually naked or not behind those chairs. What controversy!
It was truly one of the most entertaining concerts I have ever been to. Since then, Erin and I have attended many concerts together like Aaron Carter (oh yah!), Backstreet Boys, Dixie Chicks, Carrie Underwood, & a few others. All of which were extremely entertaining despite not being huge fans of any of those acts. We always have a good time together & I'm looking forward to going to concerts in the future with her now that our musical tastes have matured!
If you'd like to participate, you can read more about Journal Day
here
.